Well, it's mid-October, which is officially the start of the Christmas Catalog Onslought season. I've already received a Harry & David catalog. If those people were smart, they'd put scratch-n-sniff stickers on every page. Of course, I'd probably end up eating the catalog, and I don't know about you, but wood pulp always goes straight to my cankles.
Anyway. The next catalog I received was a toy catalog. My kids are pretty much past the toy age and are now in the outrageously-expensive-electronic-device age, but I paged through the catalog just to see what's available.
I have to say, when my children were small, they were given traditional, normal gifts. The girls got things like dolls, and the boys received Legos and sports equipment. Granted, the girls play-acted that the dolls were achieving world dominion, and the boys used the sports equipment to launch the little Lego men onto the roof of our neighbor's barn, but still. So I was a little shocked to see what's being marketed to parents today.
For starters, we have "UglyDolls." These toys frighten me because 1) they look like the characters in Maurice Sendak's Where the Wild Things Are, and 2) they cost $25! I sure wouldn't spend that much money just to give my kid night frights. I can rent "Nightmare on Elm Street" from Blockbuster and get the same effect for a mere $5. And look at the names on these things: "Ugly Worm," and "Big Toe." Yeah, can't you hear your toddler whining, "Daddy, Stevie has an Ugly Worm, and I want an Ugly Worm, too!!" Daddy would probably go outside and bring in an grub worm, and then your kid would need therapy for the rest of his life.
We don't really need an UglyDoll anyway. We have Dewey, who bears a remarkable resemblance to "Ox."

Moving from the disturbing to the downright disgusting...
Here we have "Gassy Gus." Who's running the toy companies these days, 12 year old boys? The goal of the game is to stuff Gus full of food without making him belch. I don't see how this game is going to work. My boys wouldn't want to win. For them, the goal of the game should be to get the loudest, longest belch possible out of Gus, and THEN, to mimic the sound themselves, as many times as possible until Mom starts searching the kitchen cupboards for the vodka.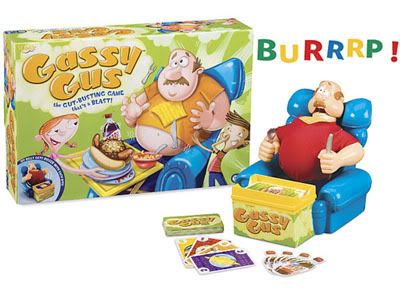 Again, we don't really need Gassy Gus. We've got Rock'n'Roll Daddy, a fat guy who sits in his recliner every night and says, "Pull my finger."
If you're big on educational material for your child, especially books, you can now purchase Walter the Farting Dog. Lovely. And did I mention this book made the New York Times Bestseller list? I think I'll abandon my current book concept and write Petey the Pooping Pigeon, followed by Carla, the Hairball-Hacking Cat.

So here's my advice to those of you who will be shopping for young children this holiday season: Give something tasteful like paper towels or shoelaces.