TC-
As everyone knows, next year is an election year. We were wondering if Flat Stanley has given any consideration to running for President. He is obviously a man of the people. He has that rugged, handsome appearance required for the media. He is flexible on the issues and favors a flat tax like I do. Do you think Stanley will run in 2008? - Underdog
Underdog,
Thank you so much for
this excellent query. It's always a pleasure to receive an email from a real person instead of yet another invitation to join a singles dating site which must be extremely desperate if they're recruiting married, near-elderly women with lip lines.
Anyway. Although Stanley has not said anything to me about campaigning (or about anything else, for that matter), I do believe he would be an excellent choice.

Thus far, he has dealt very well with the press of being in the public eye.

He would reduce taxes by making the federal government leaner.

He would very much like to iron out the problems in the middle east, and smooth the way for bringing our troops home.

I have found him to be very level-headed. Particularly while lying down.

He would thin out spending on pork projects.

Some critics say he is narrow-minded, but I think he has more than an inkling of what concerns the average American.

Finally, he currently lives on a ranch in Texas, which has worked out well for several other presidents.
Here's Stanley with the ubiquitous prickly pear cactus: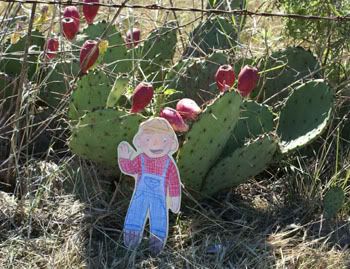 And here he is with his exotic turkeys, which is great experience for working with French diplomats: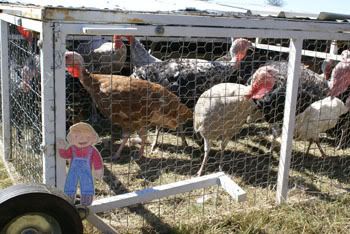 In conclusion, I believe that with some plain talk from his friends, Flat Stanley could be pressured into running. Please send all campaign donations to me.
Sincerely (and I mean that),
TC