People, people, people. I think I should write a unit study on Bad Poetry, and it will include the fact that bad poetry has at least one of the following identifiers:
Stilted or inaccurate rhyming,
Complete lack of meter, and
Use of the words "underwear," "Hillary Clinton," or "okra."
An excellent example would be this entry by Seester.
Roses are red, violets are blue. You are TC, and I am your Seester.
See? This is very unlike the lyrical, intellectual, and completely enjoyable poetry that was written by most of the other entrants. But I'm sure that, with some practice, all of you can produce truly grimace-producing poems in time for the 2008 awards.
But without further delay, here are the 2007 winners.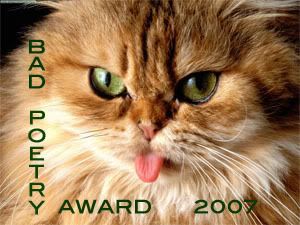 In the Young Adult category, the prize goes to Daffodilgirl for her entry, appropriately titled "Felony."
In the Adult category, the winner is Underdog, who actually rhymed too well to win, but his clever use of the term "exploding noses" tipped the scales in his favor.
If either of you would like a smaller version of the above photo to post on your blog, PM me and I'll send you the HTML code.
To everyone else, better luck next year! (And here's an inside tip - word is that the judge will be looking for entries that include the phrase "garbanzo bean.")