Oh, the fun just never ends around here.
My 16-year-old, whose mission statement for life seems to be "Hey, y'all, watch this!", decided that, during this evening's storm, we had enough water behind our house for some most excellent skim boarding, dude.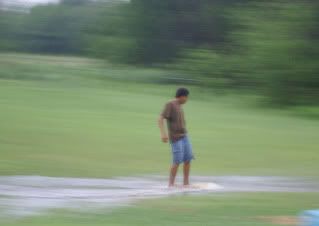 The threat of being hit by lightning wasn't enough for him. He had to up the ante. He's probably the only guy on earth who runs the risk of colliding with barbed wire while surfing.