I think I have lost all voluntary control over my own body.
The next two weeks are packed - dentist & orthodontist appointments, an hour drive each way to daily ballet camp for my daughter, hockey spring training for Sasquatch, work, a bathroom remodel that has now grown to include the laundry room and a second bathroom, and a swimming pool to tend to. Forget about cooking and cleaning. My family will have to forage for wild berries and wear beach towels safety-pinned to their underwear.
For whatever reason, my brain has suddenly decided that I can get by on less than 5 hours of sleep each night. I look like I've got a matched set of Samsonite luggage hanging under each eye. But what my brain doesn't know is that my body is soon going to rebel by falling asleep while I'm standing in the produce department of the grocery store. If you see a woman upended in the pineapple display, don't pull me out. I need my rest.
And for some odd reason, I've been thinking about getting back into running. Never mind the obstacles of
1) no time. Except for the possibility of running around my car at red lights.
2) heat. Texas is nature's answer to the toaster oven by 8am now.
3) the reason I quit running in the first place: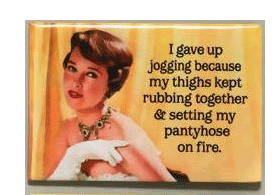 Well, that, plus I couldn't find running clothes to match my elbow-length gloves.