Fourteen years ago today I was in the early stages of labor with Princess BunHead, so in honor of her I am going to tell a story from her early childhood, when she was known as Princess BroccoliTop.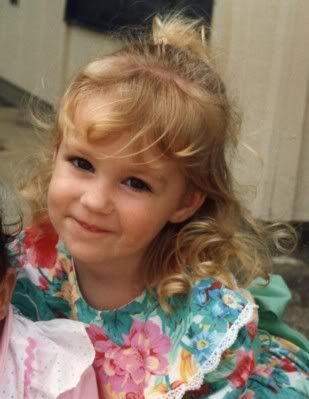 Princess BT was around three years old and I was about 7 months pregnant with Sasquatch. Mr. Destructo was 4, and FatBottom Baby was 18 months. My life at that time was all about Cheerios, diapers, and my love/hate relationship with Barney the Dinosaur.
Well, anyway, Princess BT had an appointment with a nurse practitioner for some routine child development testing. Now, Princess has always been a little precocious, but the nurse didn't know that, and even I didn't see what was coming.
One of the tests is to have the child draw a picture of a person. Apparently, the tester looks to see if the kid has put on the appropriate number of eyes and legs and this tells them something about the child's intellect. And if the child draws a picture of a bloody weasel or something equally gruesome, then they call Child Protective Services. So you want your kid to perform well on the drawing part of the test. I think *some* parents even have their kids practice their scribbling at home. "Yes, sweetie, I know you wanted to make a picture of Mommy cooking dinner, but the nice lady at the testing center might get worried about the flames you put in over here."
So the nurse handed Princess BroccoliTop a piece of paper and a crayon, and said, "Now I want you to draw me a picture of your mommy." Princess BT took the crayon and filled the page with this
I was just beginning to beam with pride, realizing my precious little darling is going to draw Mommy's eyes next when I heard these words coming from Princess BT's lips: "Well, she has a uterus." ACK! That's wasn't a head she was drawing, it was an enormous reproductive organ! I immediately got light-headed as I thought about how I was going to explain this to CPS. I imagined the poor CPS social worker who'd end up with our file:
Bob: Susan, I'll trade you this Uterus the Size of New Jersey file for *two* bloody weasel cases.
Susan: No way, bub, you're on your own.
At that moment, though, I realized that God had blessed this nurse with a sense of humor. She was doing her best not to fall completely off her chair in restrained, silent, shoulder-shaking laughter. What a professional.
As I recall, that was the end of the testing. I guess the nurse looked at me, my brood, and decided that any woman whose three-year-old who draws her mother as a giant uterus really needs a break.